Dhami House – A Royal Home Stay near Shimla
The valley from the Viceregal Lodge Shimla, dips and the forest begins, generally of oak tree and extends towards Dhami to the west of Shimla. Dhami, nearly 30 kilometres from Shimla, at that time was a Princely State. In the early years of 19th century when Shimla hills were under the aggression of Gurkha, the rulers of Dhami played a vital role to expel them by helping the army of East India Company. Rana Govardhan Singh the then ruler continued supporting British during the Mutiny in 1857 and then till his death in 1867.
Today Dhami is a part of District Shimla and is one of the largest a Tehsils of Shimla. Still away from the madding crowd Dhami offers Nature in platter. Apart from admiring nature that surrounds you all the time in Dhami, there is a lot of other things to do.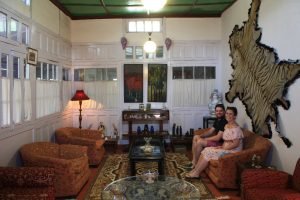 During the Raj, Dhami was one of the twenty seven Princely states around Shimla, ruled by its respective Rulers titled as Rana. The Rana of Dhami play a vital role during the war with Gurkhas in 1815 and also during the Mitiny. His help for the British was incredible and was well supported by the Iperial Government. The last formal ruler of Dhami, Rana Dalip Singh, 1920 – 1987. Dhami House is the ancestral home of Kunwar Dushyant Singh that he inherited from his father Rana Dilip Singh. The architecture of the house is a blend of English and traditional style. Mainly made of wood and stone the house looks modern from outside but its rooms are decorated with a large number of antiques and animal skins.


There are three rooms available for the Guests in the House

Facilities

All Rooms with Attached washrooms with Western Toilets.
Geyser in every room
The lower room has a lovely lawn in front.
The House is located in a Himalayan Village called Halog of Dhami Estate

All meals to me served in the Dining Room.
Morning Tea is served in the Rooms.
Tariff
Sgl Occupancy : Rs. 7000/-
Dbl Occupancy : Rs. 8000/-
The above rates include :
All Meals.
All Applicable Taxes
Morning and Evening Tea
Soft & Cold Drinks
One Half Day Walking Tour in the Villlage
The Above rates do not Include
Any sightseeings.
Any other Activities in the area.
Any laundry, telephone charges, personal expenses etc.
Any problem due to some un avoidable reasons such as road blocks, rains, snow, or any natural calamity.
Dhami offers a variety of Activities in and around. Choose one from the following and enjoy yourself.
Birding :
You may call Dhami – A Bird Park of Shimla. You do not need to set an alarm in your clock to awake you early in the morning as you may be called by whistling thrush at your window. The Franklins can be heard chirping anywhere in the area. Apart from them magpies, starlings, wobblers, mayana, bulbul, street thrush, tits and many pheasants are a common site.
It is suggested to bring a binocular with you and take help of your host Kunwar Dushyant Singh who is a perfect Bird Watcher.
Walking :
Dhami was the Hunting forest for the Viceroy during the Summer months. The British left India in 1947 but still the forest around Dhami is same as it used to be. A Walk through the Viceroy's Forest is a charm in itself. You are likely to come across a ghoral, a leopard, a hog deer, pheasants or fox.
Walk through the Village around Dhami House and observe the local life of hill people.
If you are looking for a long walk then ask your host to pack your lunch and suggest you a trail to explore on your own. Walk through the Himalayan Villages and enjoy the tranquility of the Himalayan foothills. Do not forget to carry a camera with you.
River Rafting
A day trip to the nearby river Satluj for a Rafting trip is worth. in case you want to get soaked in the glacier water, Rafting is perfect activity.
Cooking
The lady of the house is a your host and cooks food for you. Accompany her to her kitchen and learn something from the local cuisine.
Hiking :
Dhami, around Shimla offers a variety of hiking tours. Click Here or Here for more details.
Reading :
Take you book and find a corner or a grassy glad somewhere in the forest or on a hilltop. Dhami offers an excellent atmosphere for the readers and writers.
Garden Sitting : Here you are treated as a member of the family. Pull chair to the garden of the house that is surrounded by a variety of fruit trees such as peach, plums, apricot and pears. Just sit in the garden to bask in sun or just relax. Keep quiet for sometime and give time to yourself.
For more details click here to contact us.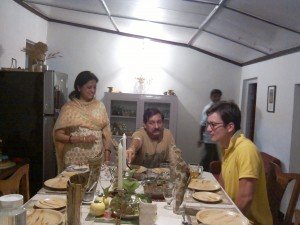 Kamlesh, Kunwar Dushyant's wife a descendant of the Royal family from Madhya Pradesh. She, the lady of the house, is a perfect host and cook. The food is not set as a menu rather she cooks from her own choice and the taste that comes, is hard to refuse.
The Host :
Kamlesh has developed her own recipes from the local ingredients and she has learnt how to develop the taste in them. The food is always a blend of Himachali, Central Indian and North Indian with a variety of dishes served at different time of the day.
Service :
You are served by the host. The crockery and the cutlery comes from the treasure of collection his ancestors. Different tumbler for different drinks and different platter for different meals. The Mizo-Pla of the dinning table is just perfect.
It begins with soup, followed by the main course and ends with sweet dish.
Tea / Coffee After the meals, Tea or Coffee, Choice is yours. You decide weather you want tea with or without milk. Want to add sugar or not, a separate bowl or sugar accompanies the Tea-set with its Kettle covered with T-Cozy.
Dhami House is truly a perfect place for Yoga Holidays. Spend you time here with our Yoga teacher and find to recognize the divinity in yourself.
For more details about Yoga Hoolidays at Dhami House please click to our this link.
An Old Refrigerator :
There used to be a time when in Dhami there was no electricity. The Royal family still could afford to have a Refrigerator that they have purchased from Delhi in 1955. It ran of Kerosene oil and consumed a litter a week. Now it serves as a store house for keeping Non Perishable packed material and is a silent witness of the house.
A Record Player :
Have you been a fan of Talat Mehmood, K. L. Sehgal or C. H. Atma all the singers from 40s and 50s of bollywood movies. Or you just want to listen to Bob Dylan, Aretha Franklin, Marvin Gaye or Elvis Presley, Kunwar Sahib has it in his collection. The old HMV record player that has been all time favorite of his father and his uncles still remains with him and has to be keyed up.
The Tiger Skin :
That remains hanging with the walls of the sitting room. Kunwar Sahib tells you proudly that the tiger was shot at by his mother. A hole near his eye in the skin proovs to be as a bullet mark.
Antiques :
This comes from the collection of his ancestors that he inherited from. There are decoration pieces, brass statues, paintings, Embroideries, stationary items, cigarette cases, cigarette lighters, smoking pipes, a toy train and much more.
Apart from above there are utensils, crockery, cutlery, carpets, chandeliers, family photographs, old furniture and a good collection of books.
To reserve your holiday at Dhami House Contact us at the Following Link.