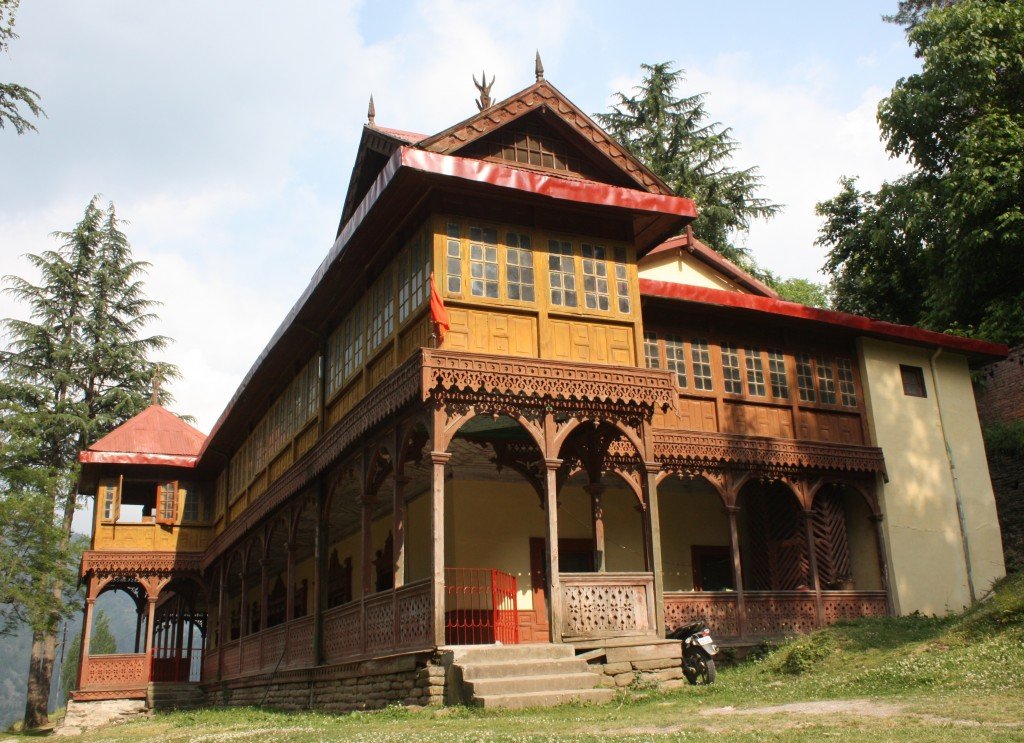 Jandev Castle, in Shimla Hills, was built with an idea of welcoming the British Aristocrats during their weekend hunting expeditions. The then ruler of the estate – Balson, Rana Ran Bahadur Jandev himself was an architect. He designed the building of Jandev Castle with wood and stone, easily available in the area. Located at the distance of 70 kilometers to the North East of Shimla, in village Ghodna, Jandev Castle is an old British time Home Stay House. The age old ambience of a British Hill House is waiting for you here. Treat yourself with a different holiday this year and have a date with nature.
Jandev Castle House – A Royal Home Stay in Shimla Hills
Map.

Balson, one of the erstwhile princely estates around Shimla during the Raj was an important of states in the Punjab Hill States. The ruling family of Balson State originally came from Rajasthan, during the Muslim aggression to find refuge in these hills.

Jandev Castle is now owned by the younger son of Rana Ran Bahadur, Kunwar Anirudh Singh Jandev. The building remained abandoned after the Indian independence till th end of last century. Nearly fifteen years ago Kunwar Anirudh Singh renovated it thoroughly and converted it into a Home Stay. Come and stay with us here and have a different holiday this year.

There are four rooms available for the Guests in the House

Facilities

All Rooms with Attached washrooms with Western Toilets.
Geyser in every room
All romms are on the first floor.
The House is located in a Himalayan Village called Ghodna of Balson Estate

All meals to me served in the Dining Room.
Morning Tea is served in the Rooms.

Cost

Rs. 8000/- Per Room
The above rates include :

All Meals.
All Applicable Taxes
Morning and Evening Tea
Soft & Cold Drinks
One Half Day Walking Tour in the Villlage

The Above rates do not Include

Any sightseeings.
Any other Activities in the area.
Any laundry, telephone charges, personal expenses etc.
Any problem due to some un avoidable reasons such as road blocks, rains, snow, or any natural calamity.

Balson offers a variety of Activities in and around. Choose one from the following and enjoy yourself.

Walks

: Village Ghodna is surrounded by dense forest and offers lovely forested trails to walk through. You may ask for a Guide of just roam around on your own. Pick up your backpack and explore the area. Do not forget to carry a binoculars, your water bottle and your camera.

Picnic Lunch :

A lunch near the mountain river is a lovely experience. Ask your host to organise it for you and have a different experience of your holiday.

Photography

If you are a camera person, Balson is for you. Just pick up your camera and go around to catch some lovely glimpses of Village lige, Himalayan landscape, Forests of birds.

Cooking

The lady of the house is a your host and cooks food for you. Accompany her to her kitchen and learn something from the local cuisine.

Angling :

River Sainj, the mountain stream is not very far from Jandev Castle. Take your fishing rod and bring a trout to the host for your dinner.

Reading :

Take you book and find a corner or a grassy glad somewhere in the forest or on a hilltop. Balson offers an excellent atmosphere for the readers and writers.

Garden Sitting

Here you are treated as a member of the family. Pull chair to the garden of the house that is surrounded by a variety of fruit trees such as peach, plums, apricot and pears. Just sit in the garden to bask in sun or just relax. Keep quiet for sometime and give time to yourself.

For more details click here to contact us.

Kunwar Anirudh's wife, the lady of the house is a descendant of the Royal family from Rajasthan. She is a perfect host and cook. The food is not set as a menu rather she cooks from her own choice and the taste that comes, is hard to refuse.

The Host :

They have developed their own recipes from the local ingredients and she has learnt how to develop the taste in them. The food is always a blend of Himachali, Central Indian and North Indian with a variety of dishes served at different time of the day.

Service :

You are served by the host. The crockery and the cutlery comes from the treasure of collection his ancestors. Different tumbler for different drinks and different platter for different meals. The Mizo-Pla of the dinning table is just perfect.

It begins with soup, followed by the main course and ends with sweet dish.

Tea / Coffee

After the meals, Tea or Coffee, Choice is yours. You decide weather you want tea with or without milk. Want to add sugar or not, a separate bowl or sugar accompanies the Tea-set with its Kettle covered with T-Cozy.

The lawns around Jandevv Castle are truly a perfect place for Yoga Holidays. Spend you time here with our Yoga teacher and find to recognize the divinity in yourself.

For more details about Yoga Holidays at Jandev Castle please click to our this link.




To reserve your holiday at Jandev Castle Contact us at the Following Link.