Sculptures on Bantony Shimla Remains Unattended No Protection from the Protectors
Sculptures on Bantony Shimla Remains Unattended, In Shimla, as you head towards Kali Bari temple from General Post Office, to your right side you come across a lovely English house – Bantony. The building has many features to discuss. One can spend a long time looking at it and understanding it's magnetism from various angles. Till recent years ago the building housed the office of the Department of Police – the protectors of the society.
Apart from the architectural designs of this heart touching edifice and its railings that depict the Coat-of-Arm of the King of Sirmaur it's a few other attractions are its vast lawns, its dominating position and two lovely looking sculptures laying in its lawns, suffering the ignorance of almost everyone. A few people gaze at them, want to know their reason of being there and then go away as there is no one to explain.
Sculptures on Bantony Shimla Remains Unattended
What does the beautiful sculptures have to do with Police, was always a question in my mind. Whenever I passed Bantony I glanced at them and every time I thought of digging out their history. Who could tell me about these marvelous pieces of Art? I thought of Him Chatterjee, a renowned painter from Shimla and son of the legendry artist – Mr. Sanat Kumar Chatterjee – a painter and a sculptor.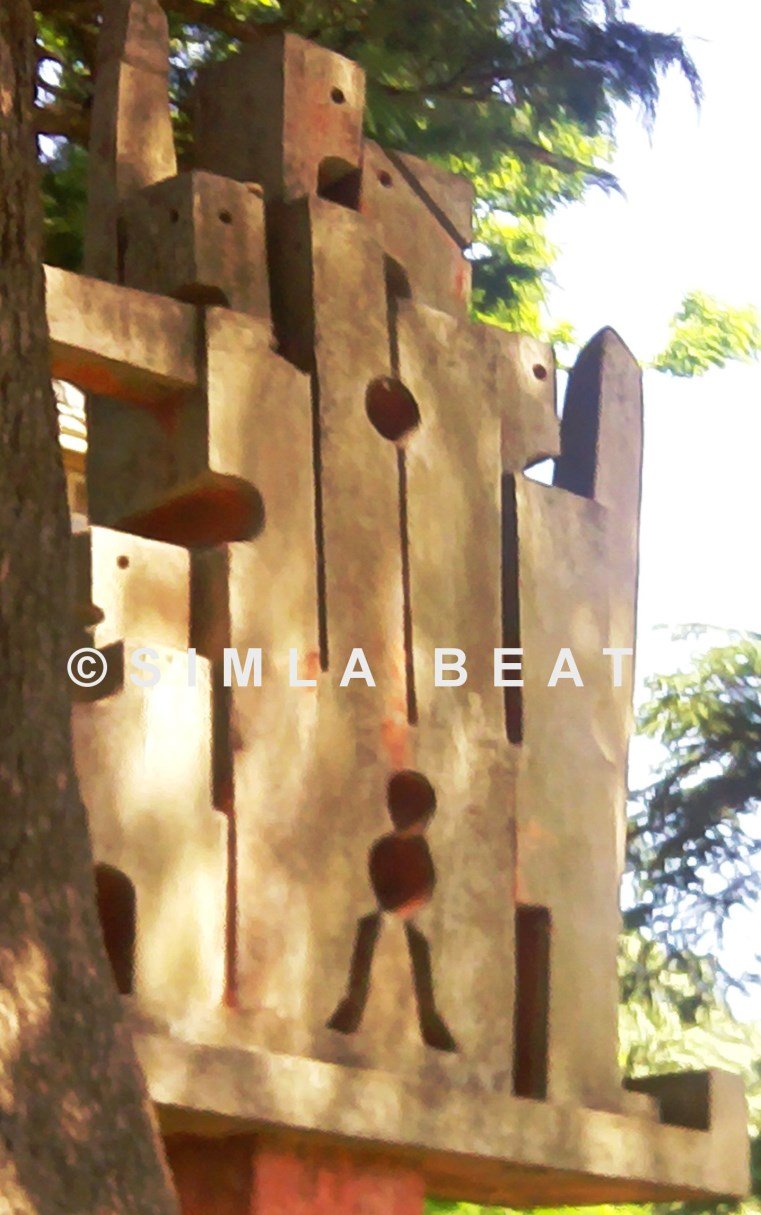 "They were designed by Sanat Kumar Chatterjee, perhaps in the later years of seventies. The one laying near the main entrance to the building represents the Beauty and the Beast. It shows a Peacock holding a Snake. The Peacock represents as a Policeman – the Protector and the Snake represents a thief – the Culprit."
The other one placed near the Cedar tree close to the gates of Hotel Grand, represents a Family being provided protection by the Police. One can easily make out that the faces carved in the stone depict the community surrounded by the Policemen.
The Department of Police has now been moved to somewhere else. The building is laying abandoned as it has fallen into disputes between the Government and the Owners. And both pieces of art are laying unattended in the lawns of Bantony, half buried in weed. The Department of Police never took any action to protect them and the present owners of the building are too busy to take care of them.