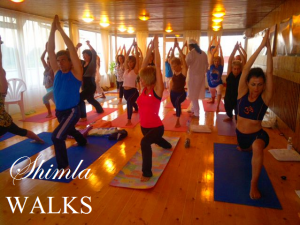 This course is for those who are suffering from the diseases like blood pressure, diabetes or hypertension. Stress is the reason of all these bugs and in today's life it is easy to invite these problems to your body. This 5 days course tries to put you to a routine and changes your lifestyle. Learn and follow the instructions of the Yoga Guru and get transformed to the word of patience.
Divine Touch Through Himalayan Yoga
In this program first we balance the body with the help of some traditional asanas mentioned in our ancient texts then secondly starts inner cleaning through pranayama nd last for deep concentration we are doing Trataka.



The program is conducted by your Yoga Guru, a renowned Yoga teacher from the hills of Himachal Pradesh. The day remains divided into two parts.

Morning Session

Before Breakfast

6.00 am to 8.00 am
Get up at 5.am and after your daily routine, bath and wearing your Yoga Suit, join us in the lawn / Varamdah, Subject to the weather. The Himalayan dawn brings peace with it a new day to be added to your life. We assemble at the Yoga Venue and follow the following program:

Prayer : A five minutes Prayer is an essential part of Yoga. This sends your massage to the almighty to pour good in you and make you a good human being.

Chanting of Mantras : The chanting of mantras in a very peaceful manner also brings peace to your mind. When we do it together in the lap of Nature, we are blessed by its qualities.

Meditation : Meditation brings peace to your Mind and your Body. You are taught to concentrate on your breathing and try to forget your problems of life.

General Exercise : This session rejuvenates your body. Different types of rotating and stretching exercises play different roles on your body. They make you feel relaxed and comfortable but heavily demands a continuity after you have gone back.

Morning Session

After Breakfast

6.00 am to 8.00 am
Go for a Walk : After the breakfast we take you for the forest walk. Not very strenuous but good to open up your veins pores, tune your muscles and bring them to their right place. Kindly bring Walking shoes with you. We find a shady glad to sit on and close your eyes for a few minutes to listen to the silence.

Make Groups and Discuss your Problems and Thoughts : There are few days when you are allowed to make groups or just sit together and discuss about your problems with your companions / other participants. This morning you may have fallen into trouble this morning while doing the exercise. Let the Yoga teacher know it and listen and follow his instructions carefully.

Enjoy your day.


Afternoon Session

After Lunch

1.30 pm – 5. pm
Sit quietly for an hour : Sitting quietly and doing nothing is some of the best ways to keep you apart from the many problems. After lunch, find a corner in the vicinity of your place, close your eyes and sit for an hour, thinking of nothing. This is an essential part of the Yoga Course. Try to take yourself away from the rest of the word and the word of materialism.

Free to Yourself : You are free to yourself and be with yourself. Try to do something nothing and just remain indulged into the deep silence. Let the peace haunt your mind and feel the change.

Smile, always.

Read : You have enough time to read something that is of your choice.

Evening Session

5.00 pm to 7.00 pm
Yogasnas : Different Assana of yoga have different role to play. Wrongly done aasan may injure you with a sprains of ruptures. Do it with us and learn the right techniques.

Pranayaam : "Praan" is your soul and soul is the important energy of our body. We need to keep it healthy and that can be done by controlling our breathing. The Yoga Exercise of controling you breath is called Pranayaam. There was various ways to follow Pranayaam and here you learn step by step how to go about it.

Kriyas / Mudras : There are total three functions in our body. Mechenical Function, Chemical Function and Material Function. Running out of the p[rocess for any of them can lead to many desieses. Kriyas and Mudras controle all the functions and keep your body healthy.

Evening Session

Dinner and After

Sit on Vajraasana for at least 10 minutes.
Next Day's Program.
Off to bead by 10.00 PM

Your Diet is decided by the Yoga Guru. During the course simple boiled food is served. Non vegetarian meals and Alcoholic drinks are not the part of the menu. Please do not insist on this meal during the course.

Breakfast

8.00 am to 8.30 am
Menu
Fruits.
Milk.
Bread.
Corn Flakes / Porridge.
Honey / Butter / Jam.
Lime Water.
Juice.




Lunch

12.30 pm to 1.30 pm
Menu
Dal.
Boiled Vegetable.
Rice.
Roti.
Curd / Lassi.
Salad.
Paneer / Cottage Cheese.




Dinner

8.00 pm to 9.00 pm
Menu
Dal.
Green Vegetable.
Rice.
Roti.
Curd.
Salad.
Paneer / Cottage Cheese.
Tea / Coffee.





---

Please note the following rules to be followed :
1. All meals shall be served on ground : All meals shall be served on ground. You will be sitting on a ground mat and place your plate on a stool, in front of you.
2. No Chating during the meals : One should not talk during the meals. It is against the rules of Hinduism. It is belived that if we do so we disrespect the food and it dos not leave its positive effects on our body.
3. Drinks :No Alcoholic Dinks shall be served in meals.
4. Food : No Non Vegetarian food shall be served during the course.
5. Vajraasan : After the meals kindly sit in vajraasana for at least 10 minutes.

Be Punctual : Please note we start the morning session at 6.00 am. Kindly come in time.
In the Morning : Kindly come to attend the class empty stomach and after taking bath.
No Extra Discussions. Apart from your class and course no extra discussion should take place. After the course please be quite and try to meditate on your own.
Sit on Ground : All meals shall be served on ground. Please note that you have to sit on a ground mat and place the meals on the tiny stool in front of you
No Talking Please : It is believed that if you speak during the meals, the body does not accept the meals in a proper way and you cannot digest it completely. So kindly concentrate on your meals and do not talk to each other.when you No talking during the meals.
No Water : During the meals no water should be consumed. In case you want to drink water then have it before you start eating.

Dhami House :

Dhami House is an ancestral house of Kunwar Dushyant Singh. For more details please click here.

Jandev Castle :

Jandev Castle is an ancestral house of Kunwar Abhimanyu Singh Jandev of Ghodna. for more details kindly click here.

---